Kozak Korner #33. April 24, 2021
Dear KIS Families,
We hope that you enjoy the Spring Break. We are still planning on having students back on campus May 3rd. We will let you know if anything changes before that day. In any case, we will send out a notice to the community as we approach the 3rd.
For anyone traveling, KIS does not require anything more than Ukrainian exit and entrance guidelines connected to COVID-19. We ask that everyone traveling monitor health symptoms closer than normal and keep children home if they have any health concerns or show symptoms.
As always, please report any cases to the school at health@kyiv.qsi.org.
Finally, Friday marked the End of Quintile 4. That means that a status report (report card) has been uploaded to our KISMET site and is ready for you to view.
We encourage parents and students to review the Status Reports together in order to ensure the whole family has an understanding of their Academic Progress.
Enjoy the break and stay safe!
Sincerely,

Luke Woodruff
Director
Kyiv International School
The community calendar highlights learning, co-curricular, student life, and campus wide events happening at Kyiv International School. The calendar also lists International Days and National Holidays that are reflective of the diverse community at KIS. View full calendar.
Middle & Secondary School Red/Black Day Schedule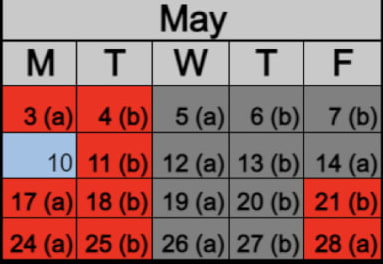 Set your Child up for Success
With the hope of reopening the school building after spring break, undoubtedly your child is thrilled about the prospect of returning to school-as-usual, right?!! …..hmm? Not so much? If your normally social, easy-going child is suddenly experiencing some apprehension about seeing friends, seeming more withdrawn or disinterested in making human connection or is outright resistant to physically returning to school then, take heart dear parent, your child is normal.
Read More

about Set your Child up for Success
Tips to Avoid Distractions
Distractions are inevitable. We all need to work on setting parameters in our lives to help avoid distractions. The more we practice, the better these will become routine, and the better we will become with being distractions. To help with distractions, try the following!
Read More

about Tips to Avoid Distractions
Mr. Guy Edmunds
Mr. Edmunds had an extensive, broad education, including a BA in Modern History from Oxford, a Masters of Philosophy in International Relations from Cambridge, and a Masters of Public Administration from Harvard. He has also completed educator training courses in IB Economics, AP Economics, and IB Business Management.
Having spent 15 years as a humanitarian aid worker and freelance journalist before becoming a teacher, Mr. Edmunds' teaching philosophy is very pragmatic: "I want students to develop a rounded view of the world and to be able to relate what we learn in the classroom to their daily lives. That is why I like teaching IB, because of its focus on real-world application and seeing things from different points of view".
Before joining the Kyiv International School community in 2017, he was an educator at QSI Tbilisi. In his free time, Mr. Edmunds is an aspiring children's book author!
The Secondary School Drama Program @KIS
The Secondary School Drama Program @KIS
Since 2015, Leanne Hume has been shaping a rich, creative, powerful theatre program for, and with, the secondary students at Kyiv International School. Focusing on inclusiveness and the process of production, Ms. Hume has been at the heart of more than 10 secondary productions in the last 6 years.
Ms. Hume has an honors degree in Production and Performance as well as her teaching certification and worked professionally as an actor for ten years. She brings knowledge and experience, as well as immeasurable energy, enthusiasm and positivity, to the secondary theatre program.
At the heart of Ms. Hume's philosophy is the idea that "everyone is an artist" and she adheres to this philosophy by working tirelessly to provide diverse opportunities which allow all interested students to participate in a capacity which suits them.
There are a wide variety of shows which have been produced by the secondary theatre program, including a devised student-led production Fearless, which included 75 elementary students and a production of Reviving Ophelia, which was supported by the UN Women and Children, which brought 30 teenagers from Donetsk to Kyiv to hear the persuasive messages on this production.
A new auditorium was built in 2016/2017 allowing for a larger audience and more effective stage space. We hope next year the KIS Secondary Theater program will be back on stage, showcasing our amazing theatre program.
Check out some highlights of past performances by the Secondary Drama program at Kyiv International School.
KIS' Class of 2021 IB Film students are proud to present the "Fade In" IB Film Festival.
This annual event allows KIS' Film students to share a small sample of their creativity, and celebrates their incredible work.
Featuring work by all six graduating senior Film students, the Fade In festival took place via live stream on the KIS Official YouTube channel on Friday, April 23 at 1:00 PM.
This event is suitable for all ages, although one clip does make use of some suspenseful imagery. (PS and younger Elementary students may be a bit too young.)
Enjoy and congrats to Mr. Hume and his IB Film Students for their amazing work.
Dear Students and Parents.
We plan to resume the after-school sports and activities programs for Middle and Secondary School Students on Monday, May 3rd (if the lockdown is over and we are back on campus).
Middle School
Monday/Tuesday:
Swimming, Drama, Track and Field
Wednesday/Thursday:
Volleyball, Track and Field
Secondary School
Monday/Tuesday/Friday:
Volleyball, Track and Field
Wednesday/Thursday:
Fitness, Track and Field, Swimming
Sincerely,

Ms. Rachel Geary
Athletic Director
Kyiv International School
Virtual Competition Open to Middle School and Secondary School Students
Our KIS students ages 13-18 are invited to a global competition on May 8th called QUEST.

"QUEST is a first-of-its-kind competition to bring together schools from Europe, MENA, Africa, and the Americas to encourage students to solve the most pressing challenges of tomorrow through coaching and guidance from real-world experts.

QUEST will feature real world challenges led by global figures like Russian cosmonaut Sergei Krikalev and by professionals from organizations including Google, Tesla, Harvard, as well as in partnership with leading organizations such as Canva. "

https://uable.com
https://uable.com/quest

The event will be a 90 minute live, online event that covers all 4 domains each for 20 minutes.
Students can elect to attend the whole event or just their areas of interest.
During the event, there will be 2 challenges related to each domain that are simple enough to complete during the session. Afterward, there will be additional challenges that students can complete offline across all 4 domains over the course of a week - again, they could complete all challenges but we tend to see students focus on one or two of the areas that are most of interest to them
The free event will take place at 7 PM EET. (Kyiv time). Please check out the websites above for more information and to register.