Kozak Korner #34. May 8, 2021
Dear Kozak Community,
The Year of Accreditation
This year we have been undergoing our re-accreditation with MSA. The entire campus has been involved with ensuring our school is in accordance with the 12 standards required. The entire community, from parents, teachers, and students completed a survey that itemized every aspect of each standard. From that data, we have determined our strengths, weaknesses, and a plan for improvement for each standard.
We dedicated Coffee Chats to communicating information to parents and providing their input into our needs for improvement. Some parents attended our zoom meetings with committees to learn more about the process and continue the conversation. The whole idea of accreditation is centered around improvement. We are constantly searching for ways to improve, and this provides us the guidelines to follow.
May 18th is our School Visit from the MSA team. This year is unlike previous years. Instead of the MSA team flying in and getting to personally see and visit with the community, it is all online. We will have classrooms, teachers, students, parents, and staff asked to join the conversation via zoom to speak about and showcase our amazing school.
Below, you will see some infographics that have been designed to highlight the QSI and KIS objectives for growth and some of the next steps to improve in each MSA Standard.
We would like to thank everyone for all your help and involvement, as we have gone through this process.
Sincerely,
Luke Woodruff
Director
Kyiv International School

Corene Anderson
MSA Internal Coordinator
Kyiv International School

Yana Chopovska-Mudrak
Internal Coordinator
Kyiv International School
The community calendar highlights learning, co-curricular, student life, and campus wide events happening at Kyiv International School. The calendar also lists International Days and National Holidays that are reflective of the diverse community at KIS. View full calendar.
Middle & Secondary School Red/Black Day Schedule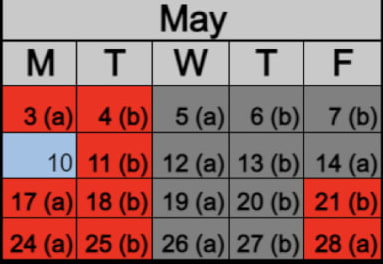 GO45 in the Middle School
Starting on April 12th, students and teachers in the middle school took part in the GO45 Challenge.
What does GO45 mean? GO45 = Get Outside for 45 minutes. The activity didn't matter, the challenge was to simply GET OUTSIDE!
Getting away from a screen and getting outside is good for our physical and emotional health. Sometimes, we need a little encouragement to take care of ourselves, especially during online school.
As of April 23: Collectively, we got outside for almost 17,000 minutes! Wow!
Grade Level: The 12-year-old Class had the most GO45 days recorded during the challenge.
By Cohort - most GO45 days recorded:
11-year-old Class: Homeroom 11-4
12-year-old Class: Homeroom 12-3
13-year-old Class: Homeroom 13-1
Languages Offered Online in 2021-22
Our online provider for QSI schools, QVS, can offer AP world language courses online. Of course, it is always best to attend face-to-face lessons, but if an AP language course is either not offered by us here at KIS, or doesn't fit a student's schedule for 2021-22, we can get the student that course online through QVS.
QVS asks only that students' express interest now so that they can staff accordingly.
These QVS world language courses would be offered as a mixture of asynchronous and synchronous instruction, with emphasis on the latter. This will be difficult to accomplish, but they think that world languages should be taught face to face (all courses should, but world languages perhaps more so than other courses), and if they need to be taken online, they should not be completely asynchronous, online courses.
We are truly fortunate to be in a position to offer this option. I would like to ask you, at this time, to express interest for online AP Spanish, AP French, AP German, AP Chinese, or other AP world language online courses. (To be clear, we currently offer AP French and AP Spanish here at KIS, so this is only if a student wishes to take a different AP world language or the French/Spanish class we offer does not fit the student's schedule.)
If there is a group of students within our QIS network of schools who need the same online AP world language course next year, there is still enough time to find a teacher and to prepare the course, rather than going to an outside provider to give us a completely asynchronous online language course.
Let Mr. Legan (scott-legan@kyiv.qsi.org) or Ms. Rech (lindsey-rech@kyiv.qsi.org) know your interest as soon as possible, please.
Ms. Ruth Karnowski
Ms. Karnowski has over forty (40!) years of teaching experience. Her journey as an educator has taken her to Cheyenne River Sioux Reservation in South Dakota; the Minnesota State Prison for Juvenile Girls; a rural village in Alaska; the QSI school in Kosice, Slovakia; and now here at Kyiv International School.
Ms. Karnowski is one of the most upbeat and interesting people are you likely to meet (ask her about her signing experience in London).
As an educator, she is determined to "meet each student where they are and help them find there own special path to success".
5L Earth Day
Before Spring Break, students in Mrs. Legan's Five-Year-Old Class celebrated Earth Day online. Students discovered the meaning of Earth Day and learned what it means to Reduce, Reuse, Recycle.
9B Persuasive Essay
Ms. Bateman's class recently concluded a unit on how to write persuasive essays. A persuasive essay is an essay used to convince a reader about a particular idea or focus, usually one that the author believes in.
Below are three that she wanted to highlight.
Middle School Drama
Middle School Drama, a vibrant and student focused after school activity, has been up and running since April 5th, meeting virtually twice a week. Despite the physical distance, these actors and their coaches are clearly having a ton of fun working on their skills:

Middle School Knowledge Bowl
The CEESA MS Knowledge Bowl (virtual) competition took place April 23 and 24. Students from Kyiv International School competed along side students from the American School of Warsaw, American International School of Zagreb, International School of Krakow, International School of Belgrade, Anglo-American School of Moscow, NOVA International School, and Tashkent International School.
The Kozaks completed the tournament as the UNDEFEATED champions! In the words of Ms. Anderson - "we supported each other, we supported the other teams, and we were humble!". As special congratulations is extended to Sergii who won the Knowledge Bowl Individual Competition.
We are proud of you Kozaks!
The NHS Bedtime Stories Project

Welcome to the Bedtime Stories project! As the KIS National Honor Society, we invite you to settle in with your child, click on a video, and listen to our NHS students read their favorite childhood stories.
Visit Bedtime Stories to see a full list of videos.
Name: Annagul

University and Major:
St. Thomas University (Miami, FL).
Criminal Justice with a minor in Psychology.

Favorite Kozak Memory:
Winning the speech and debate tournament with my partner, Andriy, who carried our team to first place.
Name: Nicholas
University and Major:
Undecided.
Social Science.
Name: Sophie
University and Major:
University in Boston.
Business of Creative Enterprises.
Name: Daniella
University and Major:
University College Cork (Ireland).
General Nursing
Kozak Message:
To current and incoming high school students, is that it's okay to not know who you want to become or where you want to go. Life is full of uncertainty, and the best way to improve yourself is embrace that uncertainty and make decisions in the moment. Do what's best for you and others, but remember that you aren't defined by what people think of you, but by what you think of yourself. And if you're happy with who you are then that's all that matters.
Name: Srishti
University and Major:
Northeastern University (Boston, MA).
Business Administration & Communication Studies.
Favorite Kozak Memory:
It was any and all of the CEESA trips I went on. Besides getting the chance to improve my skills at the competitions, it has always been an amazing experience traveling with my friends and building on my school spirit. The trips gave me so much exposure to different schools and people; only furthering my interest in exploring new cultures. These CEESA trips are truly an unforgettable part of my high school experience!
Name: Dominika
University and Major:
Amsterdam University College (Netherlands).
Bachelor of Science
Favorite Kozak Memory:
Valentine's Day Dance
Name: Noelle
University and Major:
Leiden University (Netherlands).
Political Science (International Relations & Organizations).
Favorite Kozak Memory:
The WWW trip in 13yos to the Carpathians, a vivid memory of which is our kayaking expedition. It started of all fun and games with beautiful sights, stops at the shores, and the occasional person falling overboard, but it quickly got serious as a strong storm hit. Evidently, it must've been a truly frightening experience for 13-year-old me as I thought we would all get struck by lightning, especially with no civilization or cellular connection around. Looking back though, the trip was probably one of my favorite Middle School experiences, and I would definitely do it again!
Name: Hima Sri

University and Major:
Osmania University (India).
Chartered Accountant.
Kozak Message:
I am grateful for all the time in KIS. I enjoyed all the classes, and all the fun things happened in the past two years. Thank You KIS! it was a great experience indeed.
Name: Tugra
University and Major:
Pepperdine University (Malibu, CA).
Computer Science.
Kozak Message: Thanks!
Name: Vladyslav
University and Major:
Wirtschaftuniversitat Wien (Vienna University of Economics and Business).
Business and Economics
Kozak Message:
I would like to thank all of my amazing teachers for making this one great senior year!