Kozak Korner #35. May 15, 2021
Dear KIS Community,
As we look to the 2021-22 school year, KIS is planning to bring ALL STUDENTS back to the school campus and shift our school schedule to reflect previous years. There are a number of things to consider when doing this and we want to make sure that everyone understands some of the considerations made by the school to make sure we can do this as safely as possible.
Preschool (2-4 yo)
There will be no changes to the preschool program. These classes are already combined.
Elementary (5-10 yo)
Elementary classes will be coming back together into one classroom. These groups are already limited to smaller class sizes (16 students). We are adjusting some furniture in these classrooms to maximize the space available.
Middle School (11-13 yo)
All Middle School students will be attending school on campus, every day. Some of our classrooms have shifted spaces to allow for middle school to take on extra rooms. We are also changing 5 middle school classrooms to be larger for more space. This means the majority of the middle school classrooms will now be larger in space, as we have already increased the size of some rooms.
Secondary Students
All Secondary School students will be attending school on campus, every day. The size of classes and spaces are different for all Secondary classes. Some classes are smaller, while others may have more students. However, the average size of these classes still remains relatively small with 16 students. Larger spaces will be taken into consideration for any classes that may be larger than 16 students.
Extremely Limited Online Only Learning Option
KIS will NOT offer the same level of online learning. Depending on the situation, we may accommodate a limited "fly on the wall" connection to the classroom and teacher, however, the majority of our focus will be shifting to students on campus. Those wishing to remain completely online will need to consider how to move forward at KIS and what options will be available. Any time a class needs to be quarantined or there is a government-mandated lockdown, KIS will shift to its online learning plan.
Student Athletics and Activities
Middle School and Secondary will continue with after-school activities. Inter-school competitions will be limited, but KIS will plan to have some competitions with schools that are following similar safety guidelines. CEESA has canceled the Fall Season, however, KIS will continue to participate in as many virtual events as possible. The Elementary Program is scheduling Elementary Activities and will be planning a safe way to offer these during the day.
We will be sharing more information and keeping the community updated on any changes, as much can change between now and August. Please take a look at the other documents connected to this message.
Sincerely,

Luke Woodruff
Director
Kyiv International School
The community calendar highlights learning, co-curricular, student life, and campus wide events happening at Kyiv International School. The calendar also lists International Days and National Holidays that are reflective of the diverse community at KIS. View full calendar.
Middle & Secondary School Red/Black Day Schedule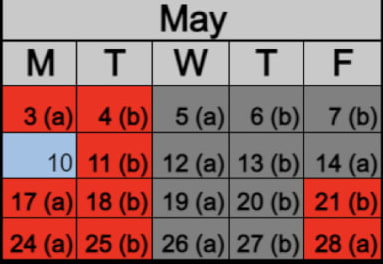 Dear Parents of Secondary IV Students.
This year's Graduation Ceremony has been scheduled for Saturday, June 5, 2021 at 4:00pm.
Due to school COVID protocol, the event is only open to graduates and a limited number of family members.
Please note - the event is weather permitting and can change due to COVID concerns. Masks must be worn. Temperatures will be taken on arrival. Attendees must be on the guest list to enter campus.
For more information, please contact Ms. Rech, Secondary Counselor at Kyiv International School.
Poetry Unit
Each year in 12YO Literacy we do a Poetry unit, and invariably it ends up as one of the most creative parts of the year. Poetry is inherently less structured and more free in its requirements, and with that in mind students are able to maybe get to the essence of their true voice easier than in other areas of writing. The poems you see here are from the heart and were chosen as the best of their best, by the students themselves. We sincerely hope you enjoy.
Reader's Theater
Last week in 9DW, we worked on Reader's Theater and then performed them on Friday for the class. Students were all assigned a character that they had to analyze and then bring to life. Students used expressions and elements of drama to bring dimension and personality to their characters and performances.

They really enjoyed this project. Reader's Theater is a fun and active way for students to be active participants in their learning and take ownership of it. It helps to develop fluency skills, expression, comprehension, and analytical skills. It also aids in the building of students' confidence and public speaking ability.
Name: Ludwik

University and Major:
Undecided for university. Plans to apply this summer when applications open.

Favorite Kozak Memory:
In 2012 season during the Saturday football matches for elementary students, I scored during the last seconds, thus winning the game and making our team the champion for that season.
Name: Fedor

University and Major:
Full Sail University.
Music Business.

Favorite Kozak Memory:
Too many to name one.
Name: Grygorri

University and Major:
University of Victoria.
Engineering/Physics/Rocketry.

Favorite Kozak Memory:
Winning the Science Fair in 2018.
Name: Zuzanna

University and Major:
Ecole Supérieure du Commerce Extérieur Paris
Name: Nicholas

University and Major:
Loyola University Chicago
I plan to work 2-3 jobs this summer in Iowa to give me some pocket money while I'm in college. These jobs include working for my grandparents, working at a golf and country club and possibly corn detasseling. I will then drive to Chicago to start school at Loyola University Chicago in late August. I plan to major in entrepreneurship and start my own company on the side while I'm there.
Name: Yeva

University and Major:
Undecided.
Planning on taking a Gap Year in Canada.
Name: Ana

University and Major:
Jagiellonian University.
International Relations & International Organizations.

Favorite Kozak Memory:
I want to say THANK YOU to all my teachers as well as KIS community members for making this experience an incredible one!
Name: Elizabeth

University and Major:
Kent State University.
Zoology.
Favorite Kozak Memory:
Getting the opportunity to meet so many new people and making new friends.
Design Thinking
Design Thinking is a human-centered approach to innovation that puts the observation and discovery of human needs at the head of the innovation process. The Design Thinking approach to problem-solving is a little different than problem-based learning.
In Design Thinking, first and foremost, the idea is for students to become problem seekers, who are able to interview, ask questions, and look at the problem from a different perspective. This is so students, not teachers, may create authentic and creative solutions to problems.
Mrs. Jennifer Conover
Mrs. Conover has deep ties to Ukraine. In another life, she was a babushka who spent her days gardening, pickling, and walking her cow through the village.
These days, she is focused on making learning relevant for her students and inspiring them to be life long readers. Mrs. Conover has been an educator at Kyiv International School since 2014. Prior to that, she taught in California and with QSI in Bishkek, Kyrgyzstan.
A graduate of Indiana Westeyan University, Mrs. Conover is currently a Master's Candidate (Teaching Multilingual Learners) at Moreland University.
KIS is a Second Home

KIS is not just a school for our family it is literally a second home!
My daughter entered the school at the age of three and graduated in 2020. She was accepted into six universities in the United States and received Presidential Scholarship from four of them. My two sons, age 11 and 13 have been in the school since they were three years old as well.
KIS is an international environment with expert teachers, cutting-edge facilities, innovative programs, experiential learning and holistic development. The school provides a numerous opportunities for children to discover their interests in life, such as CEESA Tournaments, MUN, Drama, Art, Music classes, you name it!
Whatever path my kids will choose I know that they will have a smooth journey as KIS has given them an excellent experience and knowledge!
Dear Parents! 
In order to give you the opportunity to have some wonderful books for the summer, KIS has decided to open the Online Scholastic Book Club one more time this year! The offer starts on May 16th and runs out on May 26th. We are going to hopefully receive your books before the end of the school year. The estimated time of arrival is the 10th-15th of June. Please note this is the estimated date of arrival and is subject to change.    
Before you place an order, please, consider the following: you have to be in Kyiv till the end of June to be able to pick up your order from school if you need to leave earlier for summer you agree to pick up your order in August/September from school. The school is not shipping the orders.
What is a Scholastic Book Club?
Two or three times a year, KIS gives the opportunity to order quality children's books at a discounted price from Scholastic Book Club. The books Scholastic offers are carefully chosen to get children reading for pleasure - and to keep them reading right through their teenage years. There is no obligation to order, but for every €1 that parents spend on a school's Book Club order, they'll donate 20¢ in FREE BOOKS back to the school*.
As a librarian, I set up a new Book Club order via Scholastic's website. I share the unique scholastic website address with you below. Parents and children go online to browse the latest Book Club range. Parents order and pay securely online. Your child's teacher will receive the order, so please remember to choose your homeroom teacher before paying for your books The books are delivered to the school for FREE.
Here are the steps you need to take: 
Go to the school's Scholastic Webpage http://eu-schools.scholastic.co.uk/qsi-kyiv-international - you will see QSI in the top right-hand corner. 
Select which books you would like - to do this click "BUY" 
When orders get close to £80.00 or 100$ please proceed to checkout. There will be a summary of the order, click check out again. You can always open another with the same date straight after. This way the company can keep the orders going through customs without issues/delays. 
It will ask you to register your email address or if you are a returning customer to log in using your email address and password. 
Choose which book club basket/teacher you would like to place the order into. Your child's teacher will receive your order and pass it on to you. 
Make payments for your books.
If you have any questions, please, email me at alla-yarmolenko@kyiv.qsi.org.
Sincerely,

Alla Yarmolenko
Head Librarian
Kyiv International School
The NHS Bedtime Stories Project

Welcome to the Bedtime Stories project! As the KIS National Honor Society, we invite you to settle in with your child, click on a video, and listen to our NHS students read their favorite childhood stories.
Visit Bedtime Stories to see a full list of videos.